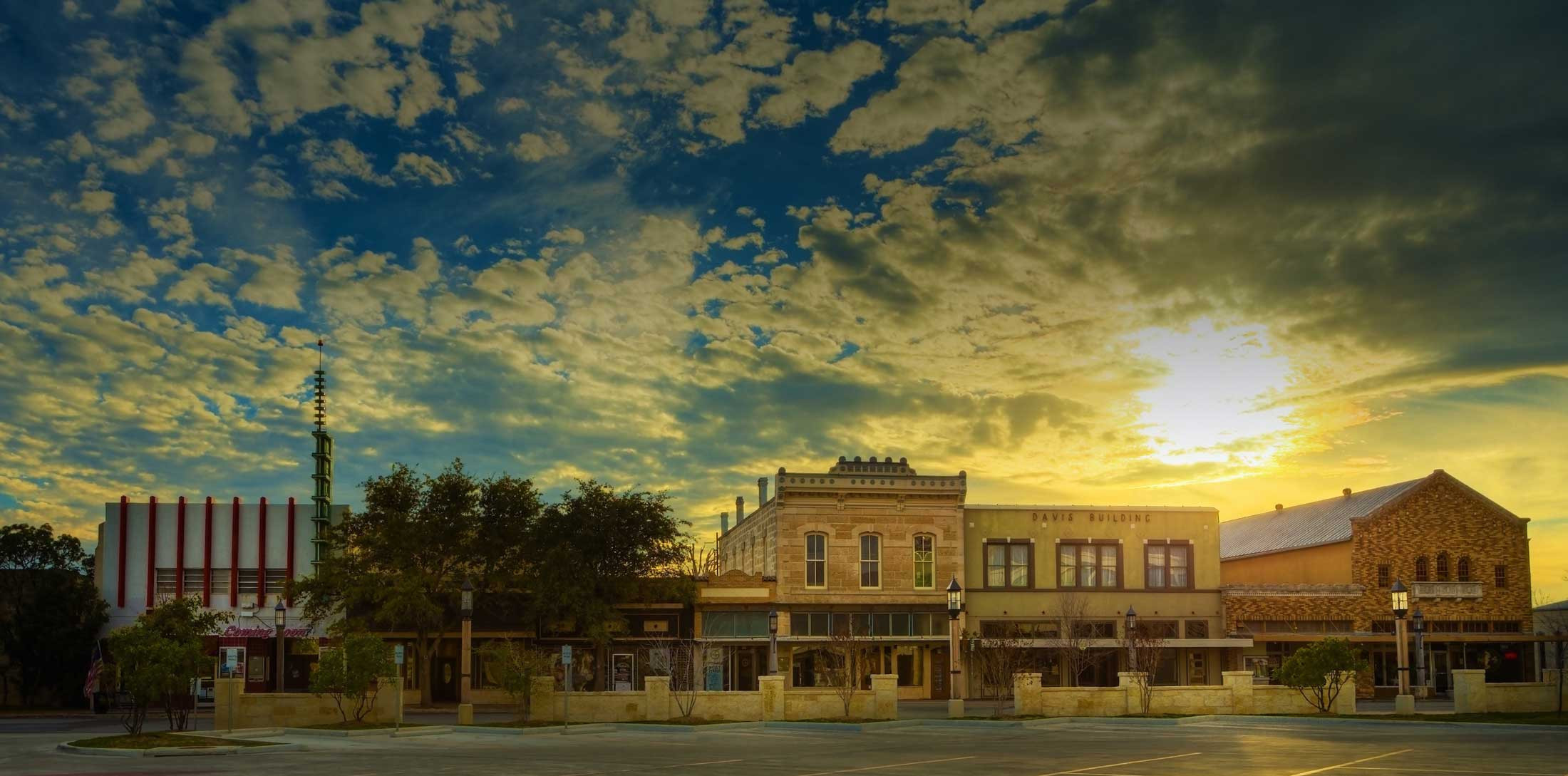 DOWNTOWN KERRVILLE
A Community Vision
165 Years in the Making
Building a brand and movement for investment, development,
and community in the Texas Hill Country.
THE NEED
The streets of Historic Downtown Kerrville have been around before there were streets. Established in 1854, Kerrville was a prototypical Old West town, complete with corner facing saloon, hitching posts in place of parking spots, and a train that hauled away wool and cedar shingles to markets worldwide.
In the middle of the last decade, Downtown Kerrville experienced retail exodus, online challenges to legacy family retail business, and a brand ( and online ) presence that were not keeping pace with nearby cities. In a single meeting of merchants coming together to change direction, DowntownKerrville.com was born.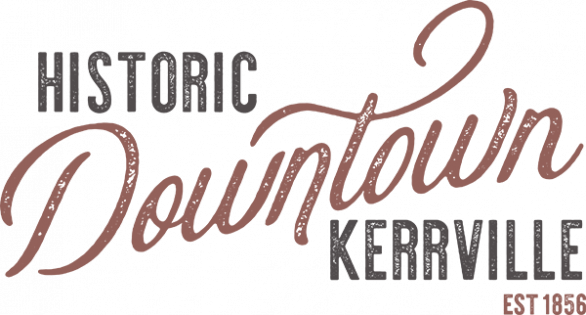 We knew Downtown Kerrville needed a unified brand to cover an all-encompassing marketing push. Downtown Kerrville ("DTK") is an in-house project by Alara, supported by key stakeholders, to help unify downtown marketing efforts and bring a full brand effort to the visitor experience. 
In 2019, we relocated offices to our restored c1910 Victorian bungalow just blocks from the center of Downtown. We redoubled our efforts to meet a flurry of exciting developments coming to the Downtown Kerrville district, including a restored 1920s theater, new hotel and retail growth, and the community's newly-adopted 30 year strategic plan. The future is looking up, up, up.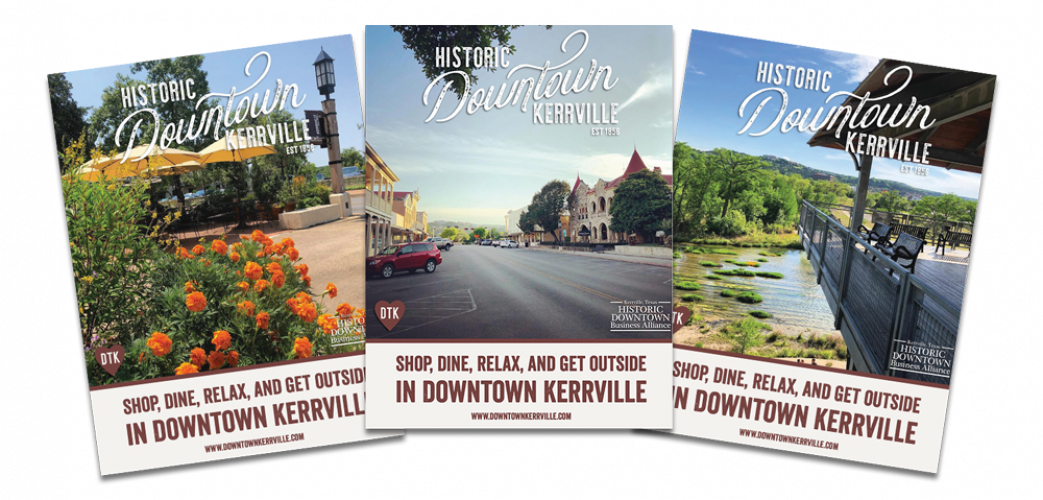 OUR APPROACH : Website + Brand
Immersed in the Downtown Kerrville community, we heard from retailers, City leadership, service providers, and visitors consistently about the need for a single place to know where to go and what to do in the district.
From our perspective, a unified website with interactive map, wayfinding, events, and directory was the perfect "home base" for locals and visitors alike to discover (or re-discover) downtown. We created sample itineraries for foodies, art lovers, outdoor types, and even those needing retail therapy. Running in tandem with cooperative brand development, we set about building and refining the best ways to tell the story of a storied place. Vital to the effort was a collaboration with KerrvillePhoto.com, who provided amazing imagery from their archives.   
Gaining consensus from locals and partial funding from community leaders, we launched the website along with brand assets including brochures, swag, and social media. Continuing with a spirit of collaboration, we also created a brand kit to allow others to share in the brand on their own materials.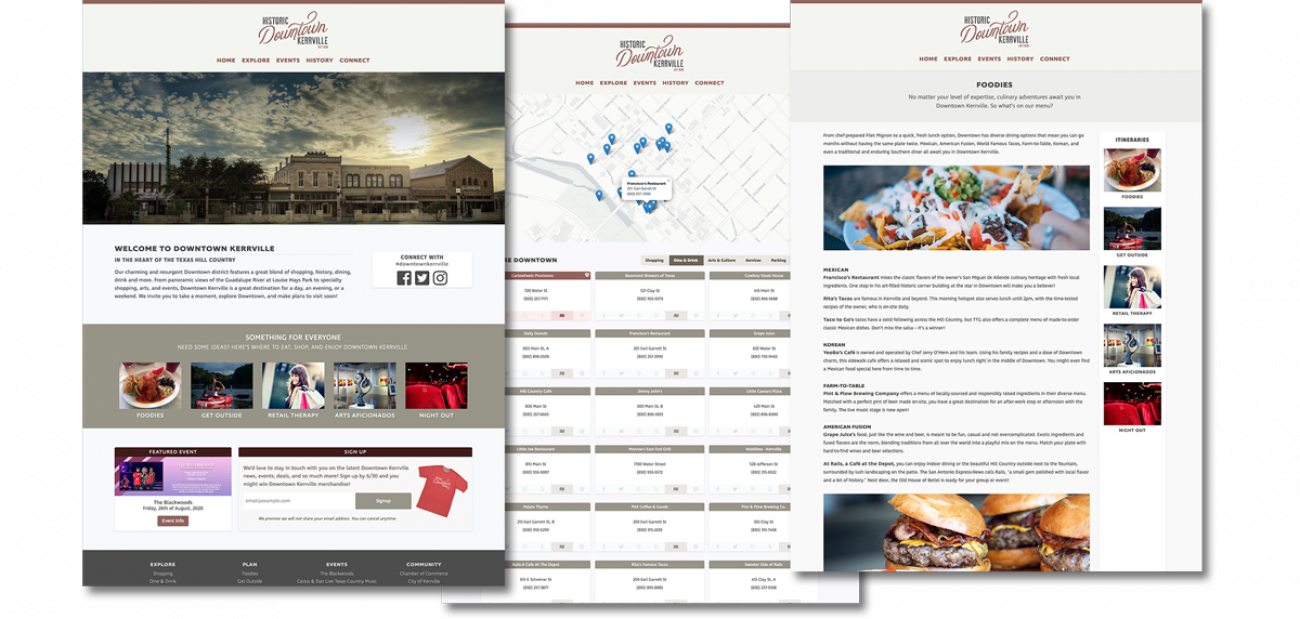 VISUAL IDENTITY
Our team met with with the Historic Downtown Business Alliance to show some initial sketches for a visual identity. While these were warmly received, we knew we could do better, so we went back to the drawing board. We re-centered around a brand that was vintage, but not locked into a specific time period.
We established a color scheme based on the architecture of the downtown buildings, both new and old. We drew direct inspiration from the deep maroon rooftops of the Schreiner Mansion, to the cream color of the limestone blocks. Today, thousands of Downtown Kerrville branded products have traveled from this humble crossroads to places as far away as Italy and New Zealand.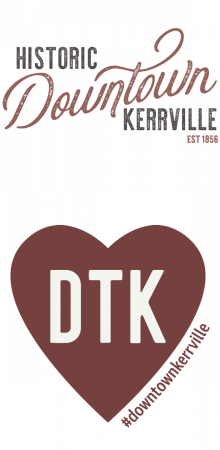 SOCIAL MEDIA
Our social media team highlights various downtown businesses and helps promote their news, sales, specials, and local events. With thousands of followers and more every week, we welcome you to hear the latest that's going on in Downtown Kerrville on Facebook and Instagram.
* Downtown Kerrville photos by KerrvillePhoto.com. Pay them a visit!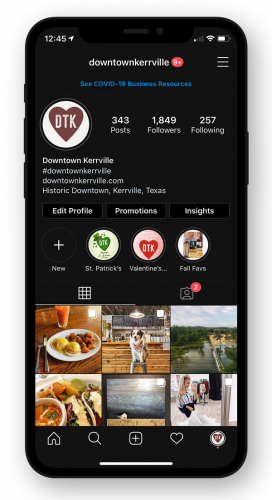 SCOPE OF WORK:
Strategy
- Market Research
- Stakeholder Coordination
- Brand Strategy
- UX/CX Design
Design
- Branding
- Visual Identity
- Web
- Apparel
Digital
- Web Design
- SEO
- Online Ads
- Email Marketing
- Social Media
Ready to get to work on your project? Let's connect.